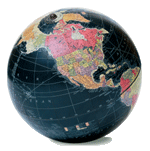 We just received a call from the United Nations Ambassador from Brazil. He was very pleased with the services your crew provided. I can't tell you enough how much it means to me to have such an excellent relocation from Brazil to the States.

"Your drivers are courteous, responsive and very hard working. I appreciate their efforts and would certainly recommend your services to anyone."

Hello, I just received a call about what a wonderful job your crew did today delivering Mr. Carol Urban's shipment from Spain. The crew did such a great performances on the delivery.

I totally appreciate it, and Thank you!!!!